Basel-Stadt Hash House Harriers proudly present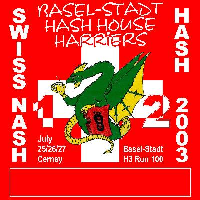 July 25/26/27 2003
Photos!
http://photos.aeschi.ch.eu.org/?ref=2003-07-25+SNH12&style=bsh3
Weather report
Our RA had been working tirelessly, and we had sunny and dry conditions for the Nash Hash. Mostly!
Our GM merely predicted that the beer-barometer would be reading "stormy"!!
General blah
The Basel-Stadt Hash House Harriers invites you to the depths of the French Alsace for the Swiss Nash Hash 12 and BSH3 100th run weekend extravaganza. Our venue is Cernay, just a short train ride away from Basel.
We can offer you quality accommodation, and we've reserved the whole youth hostel with space for 60 hashers just a short walk away from the train station. Road connections are easy, too.
Sounds good. How much?
Special SWISS RATES for the "weekend package":
| | | |
| --- | --- | --- |
| 120 EUR | 180 CHF | Low low all-inclusive rate until March 31st |
| 140 EUR | 210 CHF | Until May 31st |
| 160 EUR | 240 CHF | After June 1st |
Wow! What do I get?
You get fed and watered all weekend, Friday evening through Sunday.
You get unlimited supply of beer/wine/softies etc.
You get 3 Hashes; not just run-of-the-mill hashes, but with extras!
You get a special take-home-and-keep present from the Basel Hash.
You get entertainment.
Hopefully you'll also get sunburn and have a thoroughly enjoyable time!
So come join us in Cernay and do the 12th Swiss Nash Hash with Basel. See more photos of the venue here.
Questions? Problems?
Email the mismanagement: .